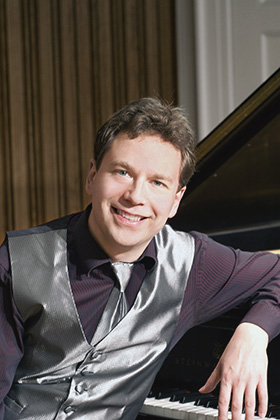 Yevgeny Morozov
Well qualified and experienced pianist, based in East Windsor, Central NJ. Staff Accompanist at Mason Gross School of Music, Rutgers University (New Brunswick, NJ). Available for accompanying instrumentalists and vocalists for recitals and rehearsals as well as accompanying for auditions, competitions and exams, including higher grades and Diplomas. Also available for orchestral work.

Middlesex County NJ, Monmouth County NJ, Mercer County NJ.

Princeton, West Windsor, East Windsor, Plainsboro, Monroe, Old Bridge, Hightstown, Manalapan, Marlboro, Freehold, New Brunswick, East Brunswick, as well as New York City.
Prize-Winning, experienced classical pianist.
Exceptional skills in playing the piano.
Substantial music repertoire and superb sight reading skills.
More than 20 years of experience as soloist, chamber musician, duo-pianist, piano accompanist.
Read more about:

Degrees, awards and performing experience
of Yevgeny Morozov

News from NJ Piano Studio of Yevgeny Morozov
Piano Accompanist in New Jersey
Yevgeny Morozov is an experienced collaborative pianist known for his versatility and sensitive musicality. He works extensively with solo instrumental repertoire for strings, woodwinds, brass, and also accompanies piano concertos and collaborates in piano quartets / piano trios.
Performing experience of pianist Yevgeny Morozov,
as chamber musician and piano accompanist in Central NJ.
Yevgeny Morozov has performed as a soloist and collaborative pianist in the U.S., United Kingdom, Austria, Slovakia, Sweden, Netherlands, Ireland, Iceland, Russia and Ukraine. He has frequently appeared as piano soloist with orchestra, performing with the BBC Scottish Symphony Orchestra, Royal Scottish Academy Symphony Orchestra, Slovak Philharmonic Orchestra, National Symphony Orchestra of Ukraine and Rutgers University Symphony Orchestra, among others.

As a collaborative pianist, he has performed in venues including Carnegie Weill Recital Hall, Steinway Hall and Bechstein Hall in New York; Kimmel Center Concert Hall in Philadelphia; Holley Hall at the Beatrice Friedman Symphony Center in Florida; Slovak Philharmonic Hall in Bratislava; Yale University in Connecticut; Pease Auditorium at Eastern Michigan University; Nicholas Music Center at Rutgers University; Philadelphia Biblical University; Rutgers University in New Brunswick and Rider University in Princeton.

Yevgeny Morozov has collaborated with such distinguished artists as Arnold Steinhardt, the first violinist of the Guarneri String Quartet; Paul Edmund-Davies, principal flutist in English National Opera; Dr. Edward K. Mallett, one of the world's foremost authorities on the double bell euphonium; Jonathan Spitz, principal cellist of the New Jersey Symphony Orchestra; and Erin J.Bouriakov, associate flutist of the Metropolitan Opera.

Yevgeny Morozov has served as a collaborative pianist for Conductors Retreat at Medomak with Kenneth Kiesler, was a piano accompanist for Yamaha Masterclass with Karl-Heinz Kammerling, and for masterclasses of the Metropolitan Opera Orchestra Principal Flutist Stefán Höskuldsson and internationally renowned flutist Paul Edmund-Davies.
Accompanying repertoire
of collaborative pianist Yevgeny Morozov
Vocal repertoire:
Includes most major works of lied and art song by composers such as Barber, Brahms, Debussy, Fauré, Ives, Mendelssohn, Mozart, Schubert, Schumann, Strauss, Wolf, etc.
Instrumental repertoire:
Includes sonatas, concerti and most major works for strings, brass and woodwinds.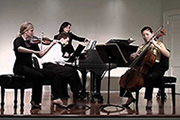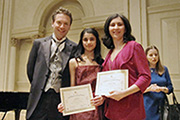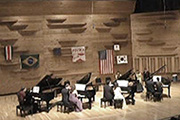 Concert appearences:
Recent projects of collaborative pianist Yevgeny Morozov include providing regular piano accompaniment to fellow Rutgers University doctoral students at Mason Gross School of the Arts in New Brunswick, collaboration with Mason Gross Faculty Members, regular accompanying students at MTNA competitions, numerous Winner's recitals in Weill Recital Hall at Carnegie Hall, Kimmel Center in Philadelphia, chamber music recitals at the Music Educators National Conference (MENC), Delbarton School Fine Arts Center, Watchung Arts Center, Princeton Hall of Westminster Conservatory, as well as appearances in recital series at Kirkpatrick Chapel, First Reformed Church of New Brunswick, Anshe Emeth Memorial Temple, Saint Mary's Roman Catholic Church in New Jersey, and Church of the Holy Trinity in Philadelphia, among others.
Appointment for piano accompanying
If you would like to make an appointment for piano accompanying,
please fill "Accompanying Contact Form" out and click "submit".
I will respond as quickly as possible to answer your questions.
If you prefer, you can reach me by phone or send e-mail:
call - (267) 241 70 65
Email - yevgeny.morozov(at)aya.yale.edu
Feel free to contact me for more information.